School Building Expertise
Every day, nearly 50,000 students walk through the doors of a Fontaine-built school, including more than 120 Massachusetts public schools since our inception. Our first school project was constructed in 1950, and since then, our work has reflected every educational-programming trend, construction advancement, and logistical challenge imaginable. No two school projects are alike, a fact that inspires us to never take our clients and our work for granted. See our K-12 schools portfolio.
Understanding School Needs & Community Priorities
In communities across New England, from Cape Cod to the Berkshires and everywhere in between, our reputation has been built by constructing public schools. We know that the success of a major school construction project is determined by how well the impacts outside the fence line are managed. Our team understands the importance of mitigating a project's impact on teaching and learning on occupied campuses, communicating and problem solving with neighbors, proactively managing construction traffic, and other critical factors. On every project we work on, we put great effort into engaging students, staff, and families so everyone can feel part of the process and share in a successful outcome.
Leaders in Sustainability
In 2005, Fontaine participated in the pilot program for the Massachusetts Collaborative for High Performance Schools (MA-CHPS) and helped establish the standards and guidelines which have become their criteria for certification. Since then, we have been at the forefront of the sustainable school movement, completing projects under both MA-CHPS and LEED, as well as net zero standards. Our work has been recognized by Engineering News-Record as one of the Top 100 Green Contractors in the country for the past eight years.
Team Fontaine
From the top on down, working with Fontaine means working with some of the most experienced school construction professionals you can find. As a family-led enterprise, our leadership team is closely involved in every project and lends a personal touch to what can be a complex undertaking. And our commitment to diversity, equity, and inclusion means that our team and subcontractors bring a wealth of different experience and perspectives to our work, which helps reflect the communities we serve.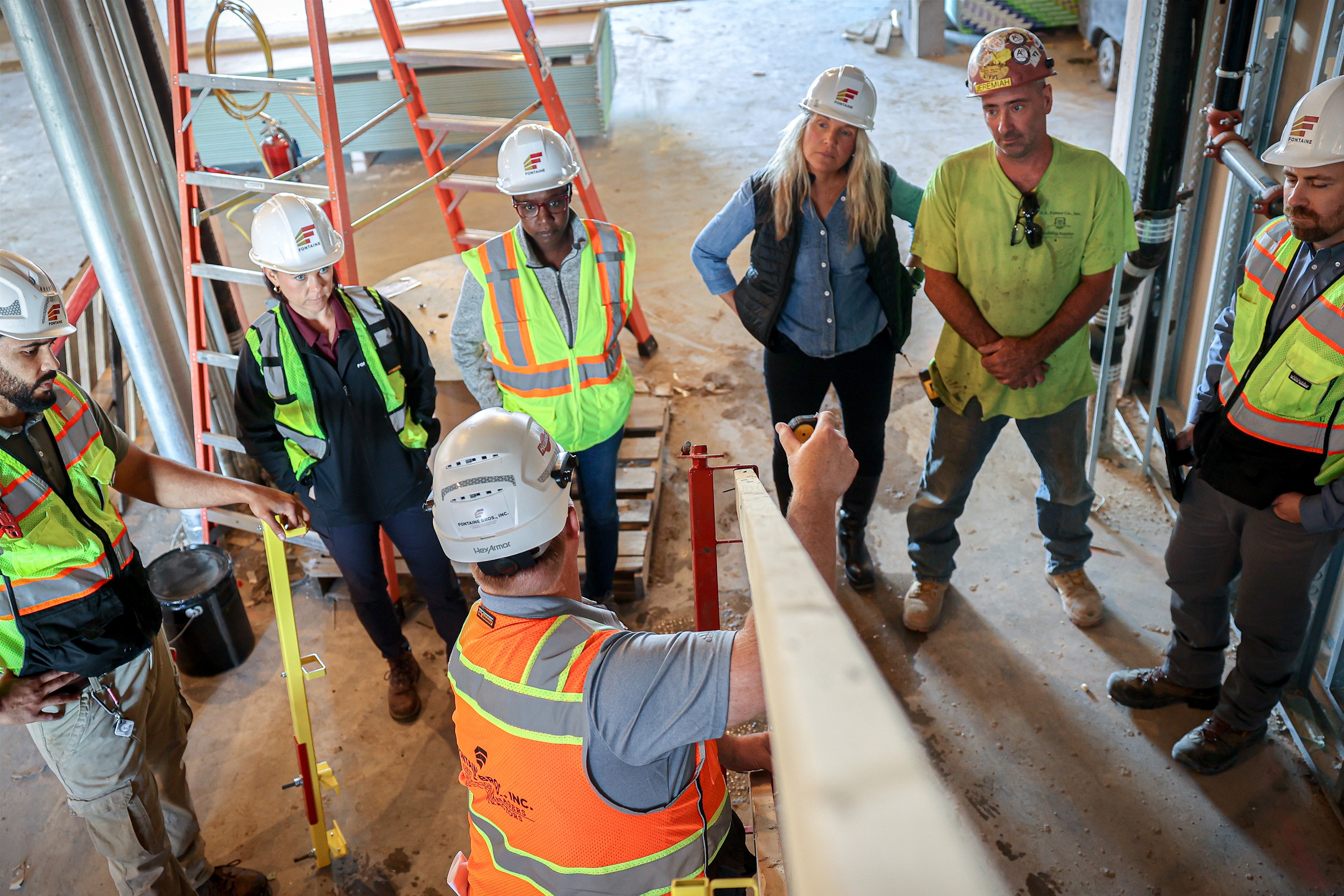 Safety is Our Job
For a school-building project to be successful, safety needs to encompass a whole lot more than simply policing the jobsite. Fontaine has a long track record of safely delivering school projects, which we believe is evidence of our efforts to incorporate safety into every move we take and every decision we make. On each school project, we develop a comprehensive site-safety plan, which is reviewed and agreed to by all our subcontractors and the entire team. We also have an on-site superintendent present on each project whose sole job is to monitor and enhance safety, day in and day out.
Embracing Technology at Every Turn

Technology is a tool - just like any other - and when it's placed in the hands of a skilled member of the Fontaine team, great things happen. Whether we're utilizing industry-standard technology such as Building Information Modeling (BIM) or we're partnering with incubators, schools, start-ups, and venture capital firms to pilot new and emerging construction-technology tools, these advancements help us to anticipate challenges and deliver smart solutions for our school projects. Combined, our technology efforts enhance the expertise of our experienced team and allow us to build more efficiently by streamlining the entire school construction process.
Crystal Clear Communication
When you talk to our past clients, you'll hear that one of the hallmarks of a Fontaine school project is the clarity and directness with which we keep them informed about the project. Building a school is an inherently complex undertaking with hundreds of people involved throughout the process. Fontaine is large enough to complete projects well over the $200 million mark, yet small enough that our top executives are truly involved in every project that we undertake. We have processes in place that ensures everyone - staff, our subcontractors, clients, and the communities we serve - knows exactly what needs to happen for a successful outcome.
K-12 Projects
On every project we work on, we put great effort into engaging students, staff, and families so everyone can feel part of the process and share in a successful outcome.